Messaging channel integrations
Link your WhatsApp Business, Telegram, Facebook Messenger, Google Business Messages, Viber or Instagram Direct account to VCC Live
You can integrate VCC Live Chat with messaging and social media platforms on a single interface and give agents a unified experience. With this integration, any inbound messages from customers arriving to your profile are automatically redirected to VCC Live, where it is assigned automatically to agents and they are able to reply to customers, use canned messages, assign the interactions to customer records and tickets or mark the interactions as spams.
Tip: You can also embed VCC Live Chat to your website. See Chat – Website Integration.
How to get started
VCC Live can be integrated with Messagebird's Conversations service, which means that agents logged in to VCC Live are able to handle customer inquiries received on your business accounts including platforms as WhatsApp Business, Viber, Telegram, Instagram Direct, Telegram or Google Business Messages.
For WhatsApp Business integration, you need to comply with WhatsApp's Commerce Policy. You will also need to provide VCC Live your Facebook Business Manager ID and the phone number you would like to integrate with WhatsApp Business. Please note that in case you would like to use a phone number that was previously linked to WhatsApp, then you would need to remove it following this process. Once you connect a phone number to the WhatsApp Business account in Messagebird, it needs to be activated following this guide.
Integrating different platforms can take different time depending on the platform and data required.
If you are interested in this integration, reach out to your Customer Success Manager to help you start the process.
To Integrate VCC Live Chat with a platform of your choice
Select a project from the project list, then select

Channels

>

Chat

.
Select the MessageBird tab.
Press Add.
Enter the Name of the channel (this can be any text of your choice) and then add the Channel ID from the relevant channel from your Messagebird account set up by VCC Live.
After this, the channel will appear in the list of channels.
In VCC Live, in Integration settings copy the API Key from your Messagebird account. (Developers/API Access/Live API Key)
In VCC Live, in Integration settings copy the Signing Key from your Messagebird account (Developers/API Settings/Show Signing Key) and press Save.
Your agents are now able to communicate with clients and reply to inbound chat messages. Make sure that agents are added to your default chat queue.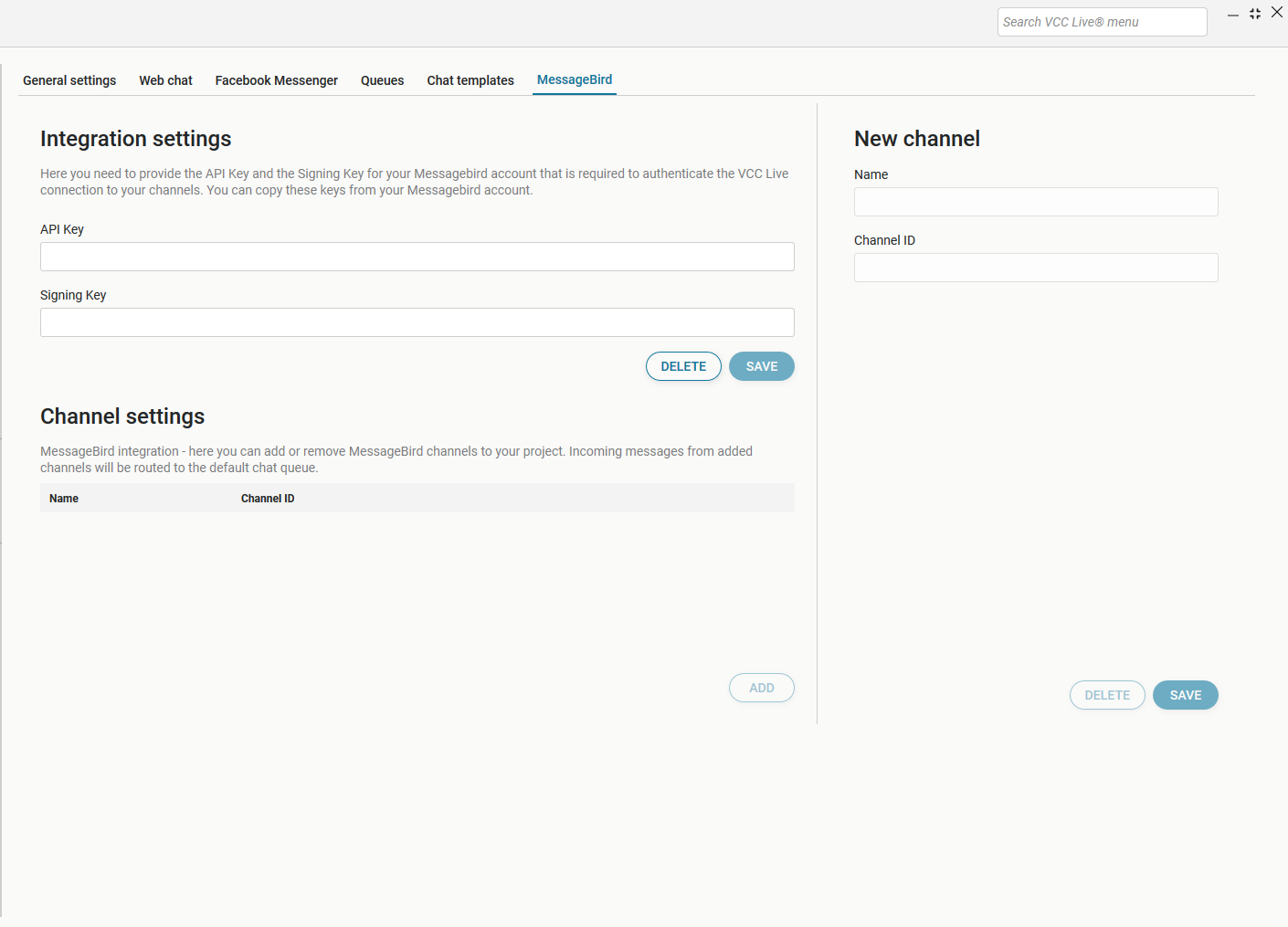 Related articles
There's always more to learn. Discover similar features by visiting related articles:
---
Comments
Can't find what you need? Use the comment section below to connect with others, get answers from our experts, or share your ideas with us.
---
There are no comments yet.