Creating a New Project
The projectWizard.win.title presents a sequence of dialog boxes that takes you through the process of creating a new project.
Tip: You can create folders to organize your projects in the project list.
Table of Contents
To Create a Project
From the

productname.label

menu, select

call_center.menu.label

>

projects.menu.label

.
Press

action.toolbarbutton.label

, then select

project_add.menuitem.label

. The

projectWizard.win.title

appears.
Follow the on-screen instructions.
| Field name | Explanation |
| --- | --- |
| Name | Name of your project. |
| Folder | The folder in which your organize your projects in the project list. |
| Outbound number | The phone number you make calls with during an outbound project. |
| Inbound number | The phone number customers can reach your contact center on during an inbound project. |
| Average agents | Only available in Predictive dialing mode. The number of average agents assigned to the project. |
| Project colour | The colour of the header in the agent's script interface. |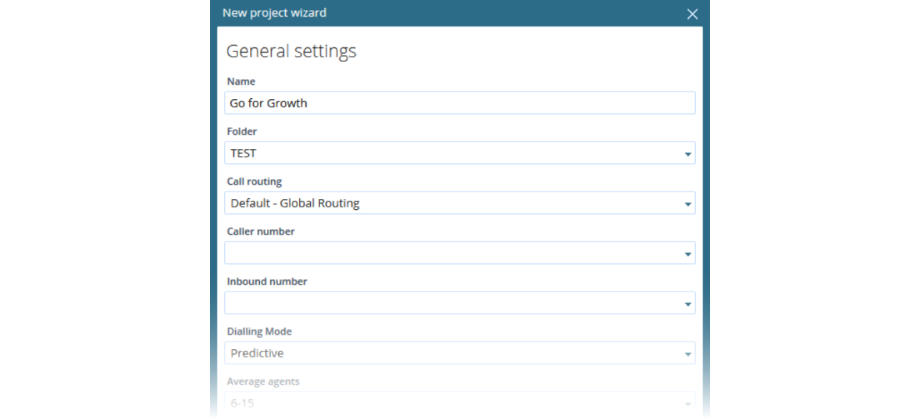 Dialing Modes
To Assign an Agent to a Project
Related articles
There's always more to learn. Discover similar features by visiting related articles:
---
Comments
Can't find what you need? Use the comment section below to connect with others, get answers from our experts, or share your ideas with us.
---
There are no comments yet.