Agent Workspace
From the agent workspace, you can handle calls, emails, tickets, and chat messages.
Note: For a detailed overview and step-by-step guide, check out our Tutorial on using the main features of the Agent Workspace.
Tip: Read about the admin workspace in the Admin Workspace section.
Note: Layouts may differ depending on the dialing mode you use.
name
description
1. VCC Live menu
Access generic settings. Works only from the project login screen.
2. Taskbar
Use tabs to switch between the call, email and ticket, manual dialer, agent browser, and chat worksheets.
3. Worksheet
The interface where you do most of your work.
4. Status bar
A bar displaying various kinds of status information.
5. Internal chat
Internal chat function provides a text-based, real-time communication interface within

VCC Live

.
6. Volume settings
Adjust the volume of system tones, and your or the other party's speech volume.
7. Project login time
Total time spent logged into the current project.
8. Call and DTMF buttons
Carry out DTMF, accept, end, reject and transfer call activities.
9. Status info
Used to indicate your status, as well as the time spent in that status.
10. Function keys
Open test mode, add a new contact, look up records, log out, or use break codes.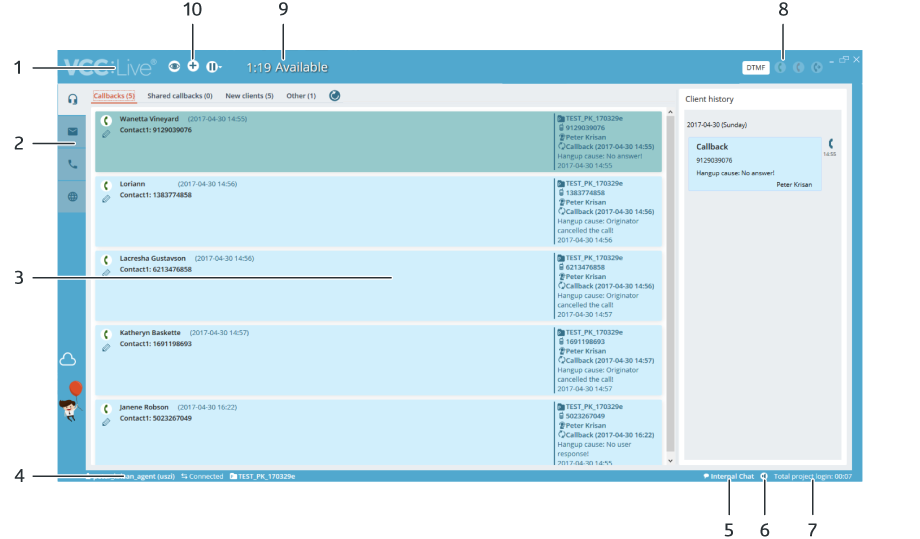 Related articles
There's always more to learn. Discover similar features by visiting related articles:
---
Comments
Can't find what you need? Use the comment section below to connect with others, get answers from our experts, or share your ideas with us.
---
There are no comments yet.