Google Dialogflow
Dialogflow is a natural language understanding platform that makes it easy to design and integrate a conversational user interface on a mobile app, web application, device etc. Dialogflow can analyze various types of input from users, such as text or audio input. In response, it can also respond to users in a number of ways, either via text or synthetic speech.
With VCC Live, the integration of Google Dialogflow can take our IVR systems to a next level. It appears as an inbound process when creating the structure of an IVR, and it can control several things, as well as navigate the user in call on the other end of the line.
Note: At the moment only Dialogflow ES projects are supported, Dialogflow CX projects are not compatible with VCC Live.
How to integrate your Dialogflow with VCC Live?
First, you need to create your Dialogflow structure on the Google Dialogflow interface.
To learn more about creating Dialogflow structures on a Google workspace, please visit the official Google Dialogflow site.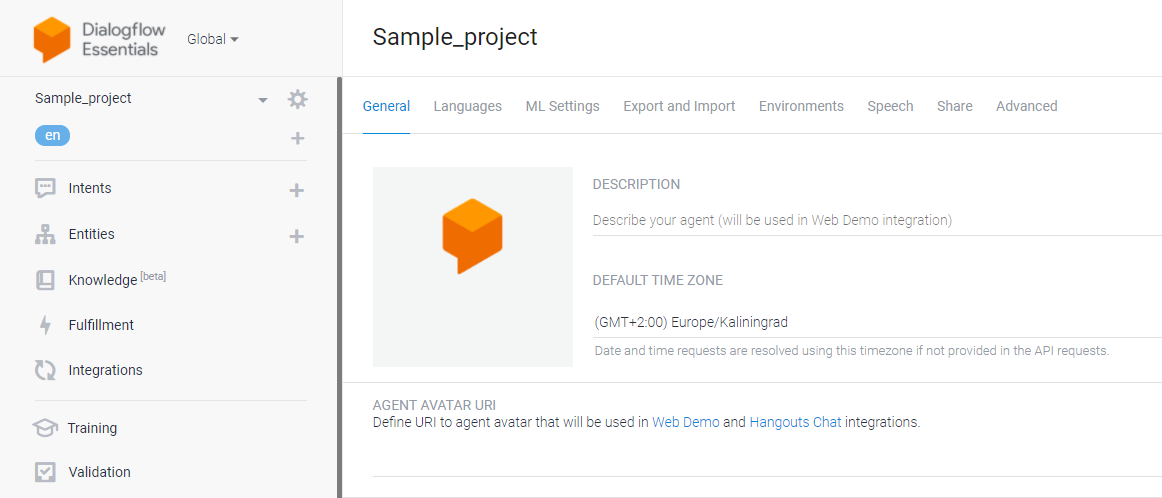 Then, to access Dialogflow in VCC Live, do the following:
Navigate to project > Channels > Voice > Inbound
In the Processes tab, you can find the Actions drop-down menu. Here you can select Dialogflow and insert it in your IVR structure

Dialogflow process parameters
A Dialogflow process has several parameters. These are:
Waiting time (sec): The Dialogflow process remains active for the time duration set here. If the Dialogflow process does not perceive any input from the user's side, then the IVR moves on to the next step set in the IVR flow. In such case, the error variable receives the Timeout message.
Language code: This one sets the language that is recognized by the Dialogflow process. This means both the language from the user's side (input language) and the language that is expressed towards the user (output language). It is mandatory to define a language for the Dialogflow process.
Dialogflow project ID: The unique ID that supports identification and helps creating a link between your Google Dialogflow structure and VCC Live. It is mandatory to define the Dialogflow project ID for the Dialogflow process. You can use one or more Dialogflow projects in a VCC Live project / account.
Event: The name of the Event that is created and included in your Dialogflow structure, and you want this event to be triggered when the Dialogflow process starts. Events in the Google Dialogflow interface can be found at the left-hand side menu > Intents > Events.
Event parameters: Parameters defined here are sent to the events themselves, thus affecting the behavior of Dialogflow. Input entered here must be in JSON format.
Action variable name: The name of the Action parameter provided by the Dialogflow. It can be used for creating your IVR, e.g. using it with an IF function. Please note that the first character here needs to be a dollar sign ($).
Context parameters name: The name of Dialogflow's context parameters. It can be used for creating your IVR. Please note that the first character here needs to be a dollar sign ($).
Response variable name: The entire response object is stored in this variable. It is saved in JSON format. It can be sent via IVR webhook for further processing. Please note that the first character here needs to be a dollar sign ($).
Error variable name: It includes various kinds of messages if the Dialogflow process fails. Error messages inlcude events such as: project is not found, language code is not recognized, credential file is not found, etc. Please note that the first character here needs to be a dollar sign ($).
Credential file: In order to link your Dialogflow process in VCC Live with your Google Dialogflow structure, you need to authenticate the request of integrating this structure in VCC Live. This can be done by downloading the Credential file from the Google Cloud Platform interface, and then uploading it here.
Related articles
There's always more to learn. Discover similar features by visiting related articles:
---
Comments
Can't find what you need? Use the comment section below to connect with others, get answers from our experts, or share your ideas with us.
---
There are no comments yet.