First Steps — User Interface, Navigation, and Basic Settings
Reading Time:
4
minutes
Estimated reading time: 8 minutes | Target users: New users
Welcome to the first lesson of VCC Live® tutorials. Before you start creating your database and first project, let's go through the user interface and navigation basics of VCC Live® Desk, as well as some basic settings.
Note: This article assumes that you've VCC Live® Desk installed on your computer. For instructions on how to install the application, see Installing VCC Live® Desk.
In this lesson, you will learn:
How to access your workspace and navigate your way around in VCC Live® Desk
What are some useful settings you can adjust
---
1. The Login Screen
When you start VCC Live® Desk, the login screen appears. The login screen allows you to authenticate yourself in order to access your VCC Live® Desk workspace, as well as set the user interface's appearance and language.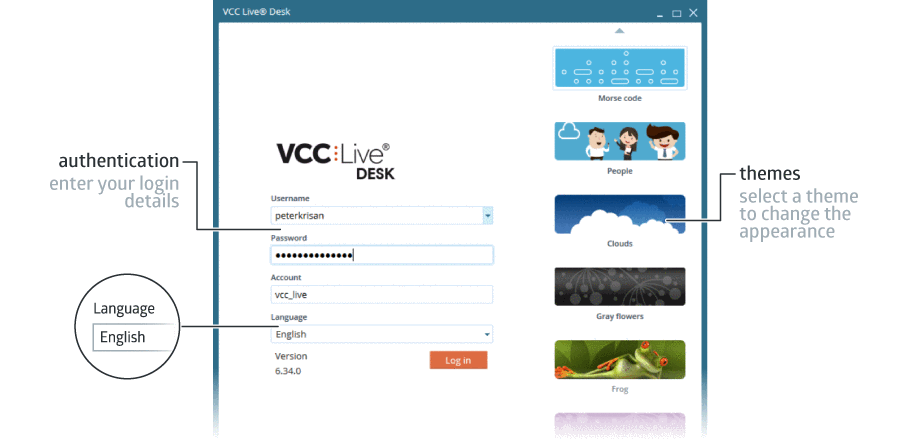 1.1 User Interface Language
You can change the user interface language of VCC Live® Desk to a variety of languages. Changing the language affects the text of all buttons, menus, dialogs, and messages. However, the language setting won't affect the proofing language of the spell checker function that is used when for example, editing emails.
Note: Only English (US), German (Germany), and Hungarian languages are fully translated. Other languages available are under maintenance.
For instructions on how to change the user interface language, see To Change the Language.
1.2 User Interface Appearance
You can customize the appearance of the VCC Live® Desk user interface using themes. A theme is the visual styling of individual elements on the user interface, such as the graphics on the frame or the icons' color. By applying one of the wide variety of themes, working in VCC Live® Desk can be a more fun and personalized experience.
For instructions on how to change the user interface appearance, see To Change the Appearance.
1.3 Authentication
When you log in to VCC Live® Desk, you need to submit your username, password, and account name in order to access your account data. The account name is your company's account name, but the username and passwords are your own identifiers.
Whether you work as an administrator, supervisor, or agent, you need to sign in via the login screen. However, depending on the type of your account, you will be logged into either the admin or agent workspace.
For more details about the login screen, see Login Screen Overview.
---
2. The Admin Workspace
When you log in using an admin or supervisor account, you are presented the admin workspace. The admin workspace is designed to present all the necessary features an admin or supervisor need. It allows you to manage users and projects, upload or modify databases, tweak various settings, create email or SMS templates, or even set up your IVR. You can also utilize a number of tools for quality management, script editing, and more.
For more details about the admin workspace, see Admin Workspace Overview.
2.1 The Project List Pane
The project list pane displays a list of your project folders and projects. You can also create, delete, clone, or organize your projects from this pane.
2.2 Taskbar
The taskbar, located along the left edge of the window, shows which worksheets are currently open in VCC Live® Desk, allowing you to easily switch between tasks. You can also pin worksheets to your taskbar. Pinned worksheets remain open even after restarting the application, making your most-frequently used worksheets easy to access.
Note: If you close all worksheets, the taskbar disappears.
2.3 Status Bar
The status bar displays various kinds of status information, for example, your username, storage information, and more.
2.4 Accessing Settings
We distinguish three types of settings, depending on the scope of what they affect:
Generic settings: Accessible via the VCC Live® menu, changes made to generic settings apply to all projects, users, and resources.
Project-specific settings: Revealed when you select and expand a project in the projects list. Changes made to project-specific settings apply to the selected project only.
Local Settings: Located in generic settings, local settings are stored locally on your computer rather than in the cloud. See Customizing Local Settings.
---
3. Basic Settings
There're a few basic settings which you may want to adjust.
3.1 Alerts and Notifications
You can request generic news, technical updates, security notifications, balance inquiry, and contract-related information to be sent to you automatically via email. You can also add other admin or supervisor users to the subscription list.
For instructions on how to adjust alerts and notifications, see Customizing Notifications.
3.2 Spell Checker
The spell checker may come really handy when typing text as it flags words with a red wavy underline that may not be spelled correctly.
For instructions on how to enable the spell checker function and select the proofing language, see Using Spell Checker.
---
Congratulations!
You've just learned how to navigate your way around in VCC Live® Desk.
Ready for the next lesson? You'll learn how to create a simple database.
Start next lesson >
---
There are no comments yet.