Softphone Integration
Estimated reading time: 3 minutes | Target users: Supervisors
In this tutorial, you will learn how to integrate a software phone (softphone) application with VCC Live.
Scenario
You would like to use a VOIP / softphone application with VCC Live, so calls made via the softphone app would be integrated with your VCC Live project (you would see your calls in the CDR Log, your agents can use the IVR systems, etc.)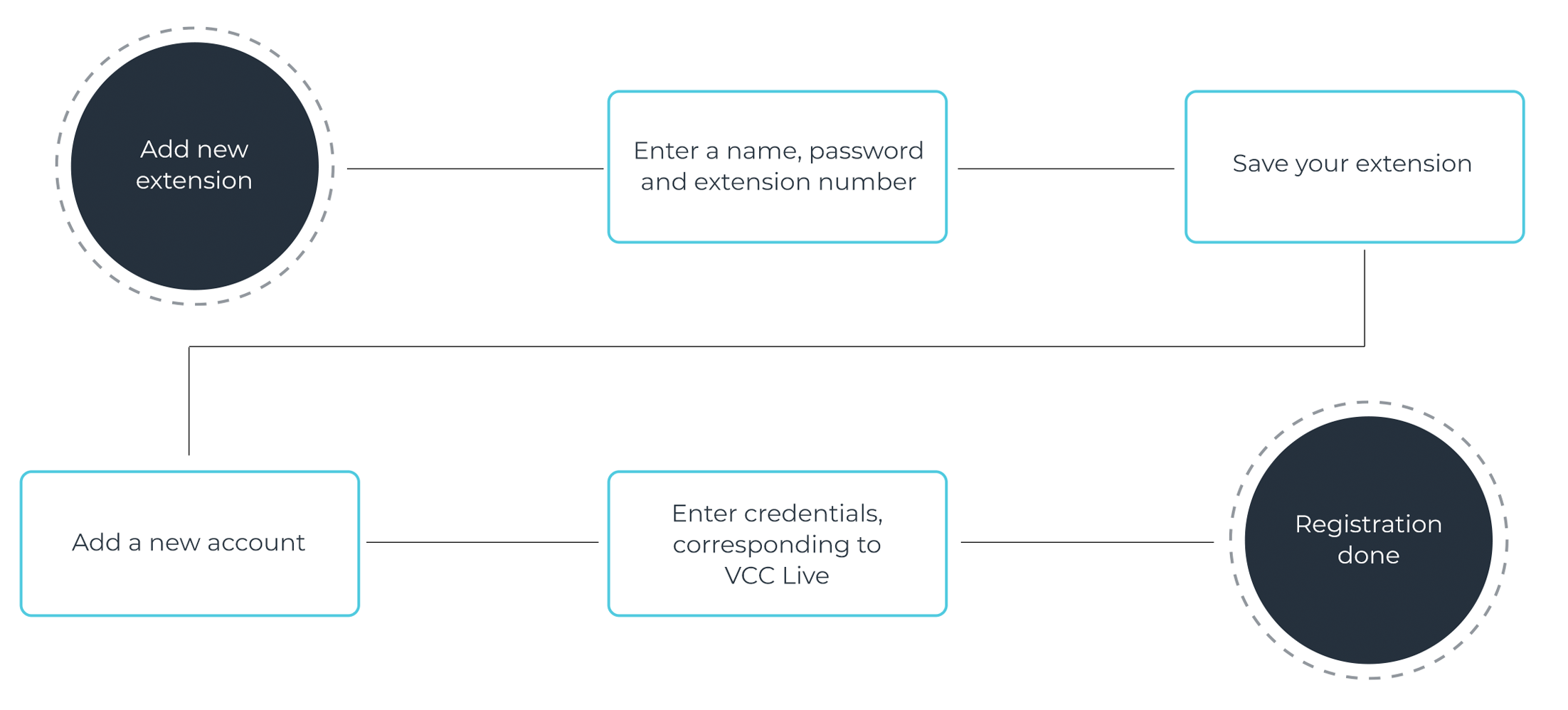 ---
1. Add an External Extension to VCC Live
In VCC Live: From the VCC Live menu, select Contact Center > External Extensions.
Press New extension.
Please provide the following:

Name – This can be any name
Password – Use alphanumeric characters and/or underscore (_)
Project – Select one of your projects from the drop-down list. Calls made via this extension will be logged in this project.
Extension – Enter any 3-digit extension here.
State – Set it to Active

Press Save.
2. Connect your extension number to your softphone application
Once you have completed the above steps, let's head to your Softphone application to set up your account there. In our example, we will demonstrate this with the Zoiper mobile app.
Once you have downloaded the app, go to Settings.
Go to Accounts > '+' (Add new account)
Select Already have an account > Manual configuration
Select SIP account
Enter your credentials

SIP OPTIONS

Account name – This can be any name. Does not have to match the one you provided in VCC Live.
Domain – This includes the name of your account at VCC LIve. For example, if your account name is 'sample01', then enter: sample01.asp.virtual-call-center.eu
User name – Enter your External Extension number you provided in Step 1
Password – Enter your password you provided in Step 1
Caller ID – Leave this blank

ADVANCED SETTINGS

Auth username – Enter your External Extension number you provided in Step 1
Use outbound proxy – Switch the toggle to have in ON.
Outbound proxy – Enter the same you have in Domain: sample01.asp.virtual-call-center.eu

Press Register
Congratulations, you're done! You have successfully connected Zoiper with your VCC Live External Extension.
---
If you want to read more about how VOIP technology works read our blog article here.
---
Comments
Can't find what you need? Use the comment section below to connect with others, get answers from our experts, or share your ideas with us.
---
There are no comments yet.