SMS Notifications
Estimated reading time: 4 minutes | Target users: Supervisors
In this tutorial, you will learn about VCC SMS Notifications which contain important project situation updates for supervisors and administrators.
In this tutorial you will learn:
How to set up an SMS notification
What an SMS notification looks like
---
1. Empty database
1.1 Setting up a notification for an empty database
You can set up VCC Live to send a notification if one of your project's databases becomes empty, in other words there are no more phone numbers for your agents to call.. At such times it is very important to act as quickly as possible and import a new database to keep your project running, therefore the option to set up a reminder can save you valuable time.
Note: In order to use this notification, the Real-Time Monitoring screen needs to be open.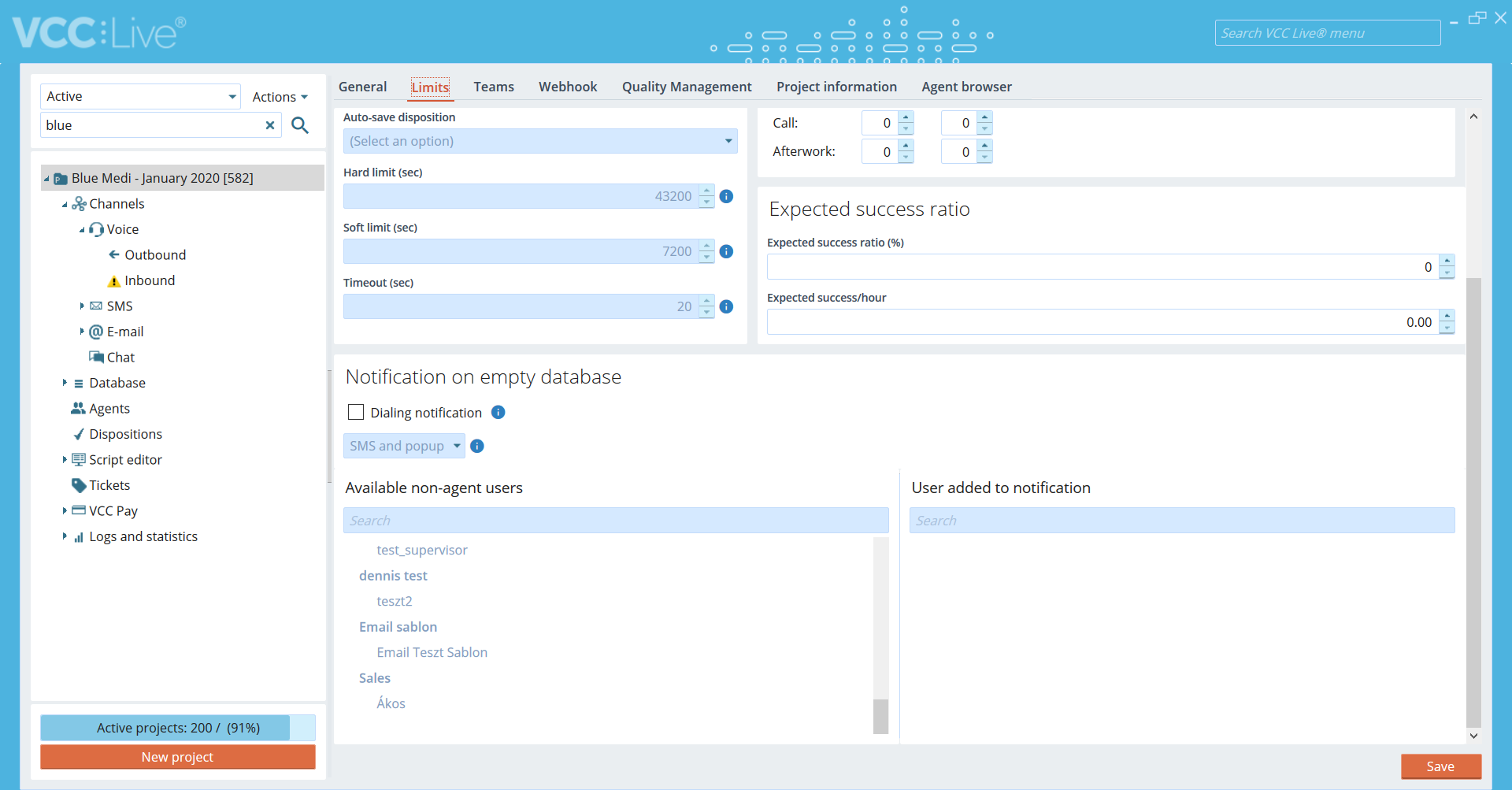 In order to activate and set up a notification for a project, follow the steps below:
Click on your project and select the

limits.tab.title

tab.
Navigate to the

db_notif.caption.label

section at the bottom of the screen, and mark the

db_notif_turn_on.checkbox.label

checkbox.
Select the type of notification you want to receive:

db_notif_sms.label

sends an SMS text message.

db_notif_popup.label

shows a popup message on your computer when using VCC Live.

db_notif_sms_popup.label

sends both of the above.

Drag and drop one or more users from the list on the left-hand side of the screen (

db_notif_not_agent.caption.label

) to the column on the right-hand side (

db_notif_not_agent_selected.caption.label

).

As the titles of the columns suggest, only non-agent, ie. supervisor or admin users can be added to the notification list. Likewise, only supervisor/admin users can perform this setup procedure.
Please note that the list of available users show only those users who have a phone number assigned to them in their VCC Live profile (via VCC Live -> User management). Phone numbers entered must include the relevant country code, and be inputted without spaces, eg. 4412345678 for a UK number.

Save your modifications by clicking on

submit.button.label

in the bottom right-hand corner.
Please note that costs for sending SMS messages are charged based on the recipient's country. If you need more information on this, please contact our Customer Care team or your VCC Live Key Account Manager.
1.2 Example
A notification message, as in the example below, includes the most important and necessary information:
The fact that your database is empty,
The name of the project, and
The exact time and date of the message.
There are no callable numbers. Project: Test project no. 27. 2020-05-05 10:09:38
---
Comments
Can't find what you need? Use the comment section below to connect with others, get answers from our experts, or share your ideas with us.
---
There are no comments yet.