Audio Device Permissions
Audio devices may not function always as intended, and in such cases, troubleshooting is necessary. In this section, we take a look at audio-related errors that may occur while using VCC Live in your browser (either as a plugin or a web-agent interface), and how to solve them.
Your microphone is not detected
If you are using a VCC Live application that runs in a browser, this issue might happen if permission to use your microphone is not set within your browser. Please, check your browser settings and change them if necessary.
Google Chrome
For example, in Google Chrome, this is how you do it for a specific site.
On your computer, open Chrome.
Go to your Salesforce website
To the left of the web address, click the Lock icon.
Click Site settings.
Set your Microphone setting to Allow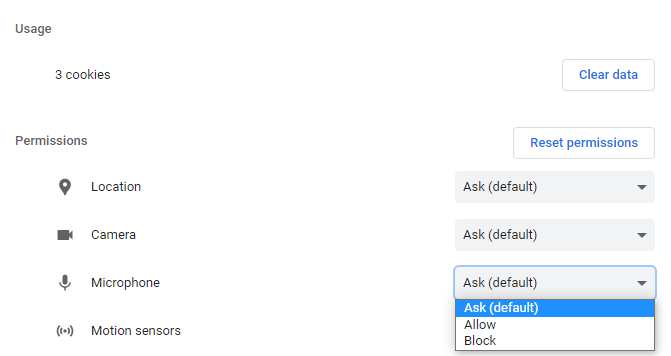 Mozilla Firefox
If you use Mozilla Firefox, please follow the below steps:
Click the three-line menu button and select Settings.
Click Privacy & Security from the left menu.
Scroll down to the Permissions section.
Click the Settings… button for the Microphone option. Firefox displays the websites with saved Allow or Block permission.
Use the Allow/Block selector to change permission for the website. You can remove the site by selecting it from the list and clicking the Remove Website button.
Select the Block new requests asking to access your microphone checkbox if you do not want to give any other sites access to your microphone.
Click the Save Changes button.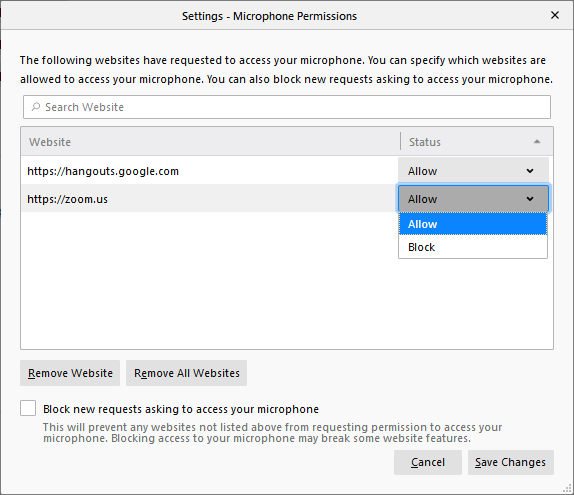 Microsoft Edge
If you use Microsoft Edge, please follow the below steps:
On your computer, open Edge.
Go to your Salesforce website
Click on the lock icon in your address bar, select "Permission for this site".
Set your Microphone setting to Allow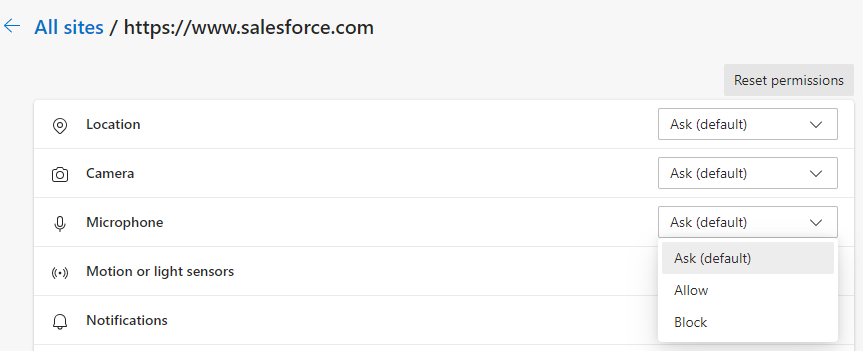 Note: In each case, it is advised to restart your browser so your changes take effect.
Your microphone is not plugged in
In some cases, very obvious hardware-related problems can happen, such as not connecting your microphone to your computer. In order to avoid that, please check if your microphone is connected properly.
---
Comments
Can't find what you need? Use the comment section below to connect with others, get answers from our experts, or share your ideas with us.
---
There are no comments yet.