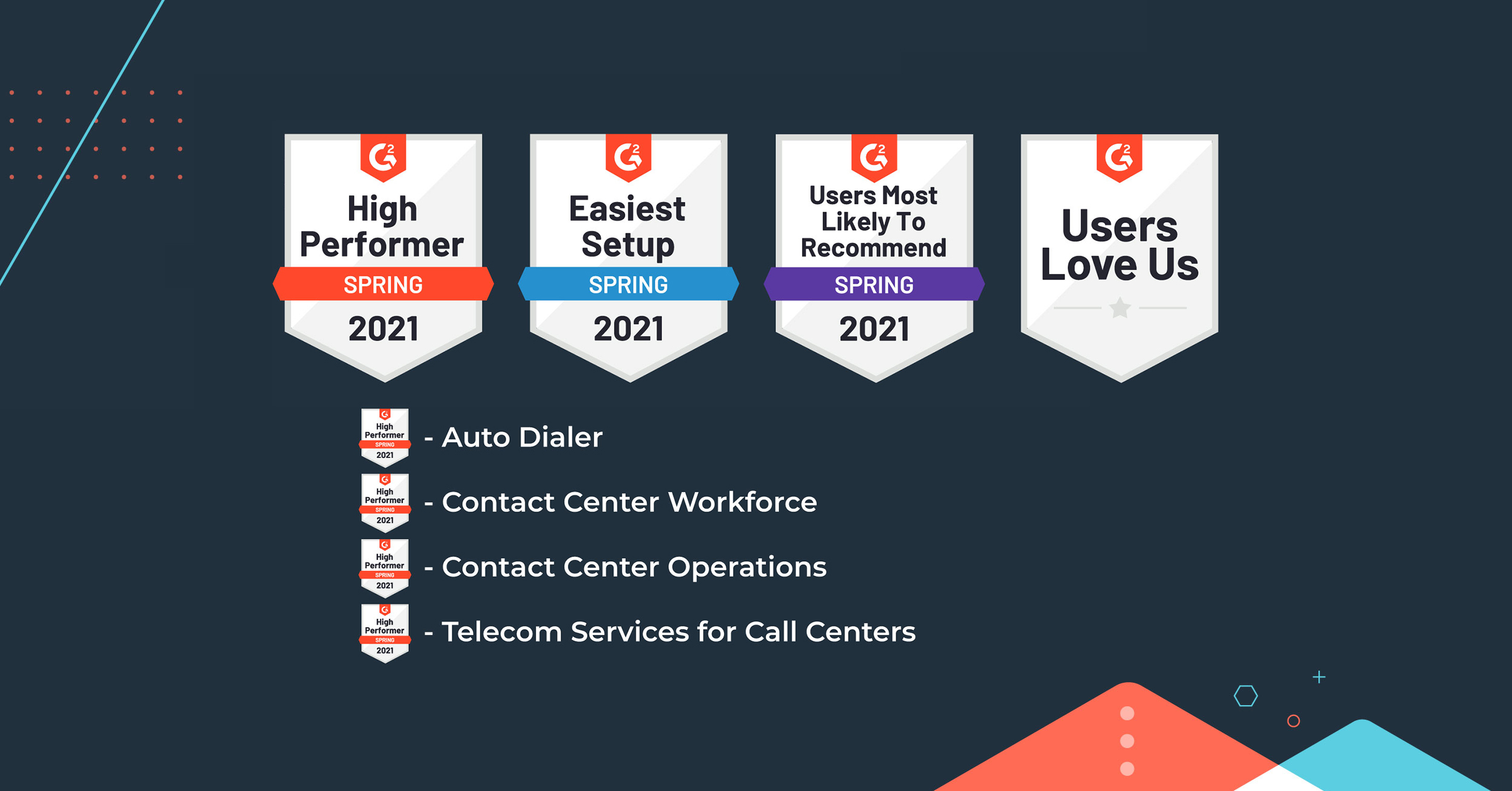 VCC Live Earns Badges in Performance and User-Driven Categories in the Spring 2021 G2 Crowd Reports
Back to blog
The Spring 2021 G2 Crowd reports have been released and we're proud to share with you that VCC Live earned the following performance and user-driven badges: High Performer, Users Most Likely Recommend, Easiest Setup, Users Love us.
We are particularly proud that VCC Live is recognized as a High Performer in Four Categories:
· Contact Center Operations
· Auto Dialer
· Telecom Services for Call Centers
· Contact Center Workforce
It's so great to see that VCC Live was chosen as a High Performer in categories that are essential for effective contact center operations. VCC Live's auto dialer, also called predictive dialer, enjoys a particular popularity among clients due to its ability to maximize outbound call efficiency. The dialer is also highly-customizable, offering unique parameters to users.
Furthermore, VCC Live offers easy human resources management as well: supervisors have full access to user management and rights setups, allowing them to transfer agents between projects, or change agent statuses – even from a distance. In terms of agent monitoring, features, such as user logs, real-time monitoring, call recording and call whispering provides full control over agents.
VCC Live is more than just a software provider company: besides the technology, we also provide telecommunications services. We strive to offer the best call-tariffs in the market, while also assisting with Number Portability and SIP Connectivity.
Earning a badge in the Easiest Setup category perfectly shows how easy it is to get started with VCC Live – all you need is a computer, a headset, and a reliable internet connection.
Besides the performance badges, we're really proud to receive two accolades in user-driven categories as providing the possible highest customer experience is clearly our main mission.
It's such an honor to know that our users love us and also most likely recommend our solution to their business partners. We believe this is the result of our hard work to make VCC Live a 360-degree solution: after setup, our support and account management team continue to offer ongoing support as needed, be it a training session, consultancy or a unique development request.
Our advanced features and hard work have allowed us to receive these four badges from G2 Crowd. Winning these awards is proof of the success of our aim to keep delivering the latest technology solutions to the contact center industry.
About G2 Crowd:
G2 Crowd is the world's largest business software marketplace where businesses can discover and review the technology solutions they need to reach their potential. Reviews on the platform are written by actual users, and are therefore unfiltered, unbiased and 100% reliable. Software solutions are selected to receive badges based on the data and insight provided by their own users.