Admin Workspace Overview
Reading Time:
1
minute
From the admin workspace, you can manage users, projects, databases, resources, settings and workflow. You can also utilize a number of tools for quality management and advanced script creation.
Tip: Read about the agent workspace in the Agent Workspace Overview section.
Table of Contents
Overview
| name | description |
| --- | --- |
| 1. VCC Live menu | Access generic settings. |
| 2. Tabs | Use tabs to switch between sets of settings. |
| 3. Taskbar | Taskbar displays which worksheets are open. |
| 4. Project list | A list of your project folders, projects and project specific settings. |
| 5. Worksheet | The interface where you do most of your work. |
| 6. Status bar | A bar displaying various kinds of status information. |
| 7. Search bar | It allows you to search generic settings. |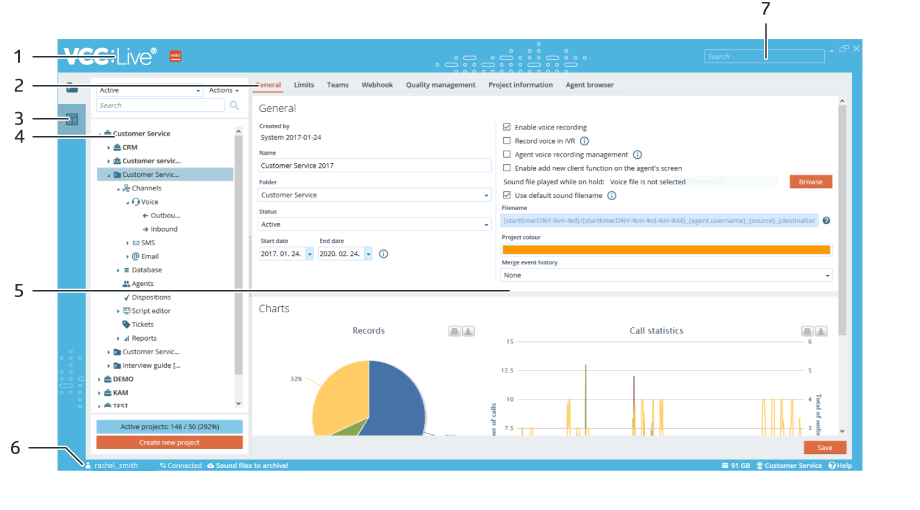 To Call Support
Press

Customer Service

in the status bar.
The call is initiated from within the VCC Live® Desk application.
To Open the User Guide
Press

Help

in the status bar.
The VCC Live® Desk user guide opens in a new window.
---
There are no comments yet.