Setup and Login
Reading Time:
2
minutes
Before users can log into the app, you must give them permission via the desktop interface. You can specify which phone number the VCC Live® App mobile app user can be reached on, as well as which project calls handled via the mobile application are registered.
Table of Contents
To Set Up VCC Live® App for a User
From the VCC Live menu, select

User Management

>

Users

.
Select a user you want to set up VCC Live® App for.
In the

VCC Live® App preferences

pane, select a project from the

Project

drop-down list.
Enter the phone number of the mobile device VCC Live® App is installed on.
Press Save.
Note: Calls handled via the app are logged in the project you select.
To Select Dispositions to Use in the App
Select a project from the project list, then select

Dispositions

.
Select a disposition you want agents to use in the application, then mark the

Enable in VCC Live® App

checkbox.
Press

Modify disposition

.
To Log in to VCC Live® App
On your smartphone: Open VCC Live® App.
Press Allow to grant the application permission to the required features and information.
A setup wizard appears. Press

Next

.
Read the EULA carefully. If you agree with the conditions, mark the I agree with EULA checkbox, then press Next.
Submit your user name, account name and password, then press Next.
The application starts syncing your database. Once finished, press Finish.
Note: The app uses a foreground service to ensure that your business calls are logged and dispositions can be used, even when the application is not displayed.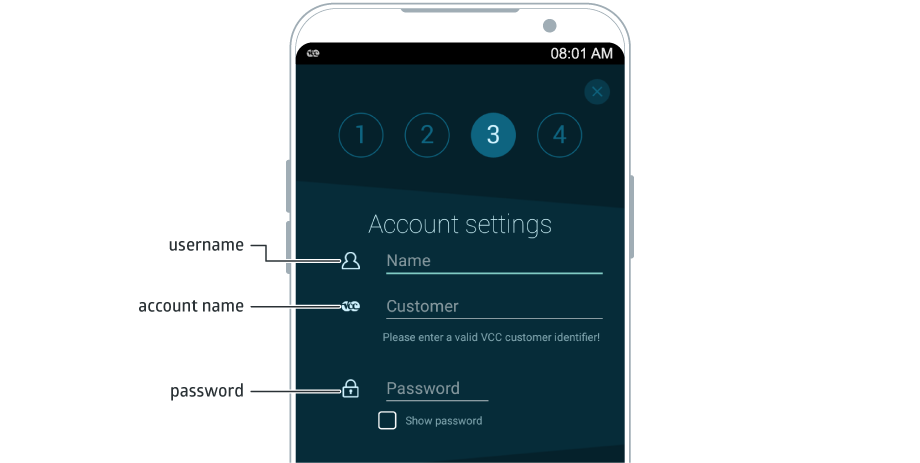 To Log in as a Different User
Tap > Account settings.
Enter login details.
Tap Save.
---
There are no comments yet.